Being a volunteer was quite a big challenge for me because in this team we experienced hardships. In spite of what we went through, still we faced them with patience and understanding. It was one of the most amazing experiences in my life. When I decided to volunteer I couldn't imagine how grateful I would be
that I was given the chance to be part of the team. Having the chance to be a NAMFREL 2013 volunteer was beyond words and an amazing opportunity for me. During our market campaign, I met different kinds of people who had different stands and ideas on current political issues. It was an opportunity for me to develop my leadership skills.

No words can explain how thankful I am to work in a team of such energetic, vigilant, and accommodating people coming together with the same passion. I felt like I found a new family. Being part of the NAMFREL team brought me a great challenge, helped me expand my circle of friends, and gave me the opportunity to cross paths with some "extraordinary" people with different personalities most especially the people in (COGON) market where we had our first market campaign. I also learned many things such as how important a volunteer's job is and how to work as a team. I felt more energetic, strong, and passionate when I participated in the NAMFREL team. Volunteering is a great way to discover oneself by cooperating with others. Thank you all for this experience. It was really a soul-lifting experience that I will never forget... God Bless!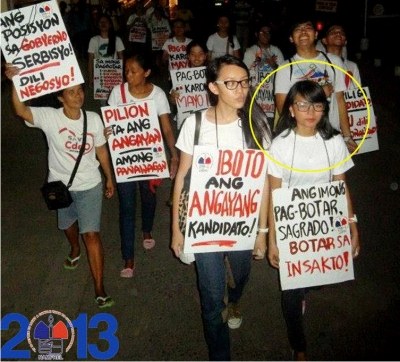 Photo: https://www.facebook.com/namfrel.misor